"In which I assume the role of a 13 year old MySpace girl." is the twenty-fourth video in the EverymanHYBRID series. It's Jeff's last attempt to reach out to Jessa. Jeff's brother Alex has always been convinced Jessa didn't actually disappear, she just left Jeff without confronting him.
Youtube Description
Edit
The sentiment still applies. I don't know. If my brother's right... then please, just call me to let me know you're okay. Otherwise, I'm not going to stop looking. -Jeff.
It starts with the message Jessa, no matter what happens, I love you [Jeff]. Then, on the notes of "I Will Follow You Into the Dark" by Death Cab for Cutie, a montage of pictures of Jeff and Jessa starts to play. At 0:22, a really short (just 16 seconds) clip of Jessa going down a slide in a park and joking with Jeff, who's shooting the clip, is inserted, then the montage restarts.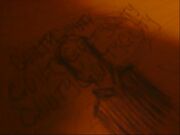 In early 2015, someone filed a copyright claim on the audio, causing YouTube to mute it. The audio was returned in September 2017.
The presence of distortion in the song. It has been noticed it's exactly at the same moment as the D in Dark, thus turning the song title into I Will Follow You Into The Ark - the Ark and the Flood are themes strictly connected with the Slender Man mythos, and very present in Damsel's blog too. Some distortion on "Spark" as well, possibly alluding to the same theme. To add to this, From :29-:30 the lyrics "You will die" are sound distorted, making them stand out more, from the original song. The voice saying "wait" shortly follows this.
At 0:53, a weird picture is inserted for a second - a piece of paper with the word "GUILTY" scribbled on it repeatedly, over the sketch of a faceless man in a striped shirt. "GUILTYGULTYGUILTY" appeared at the end of Damsel's automatically queued Halloween post.
Like the "hidden" videos, neither the drawing nor the distortion seems to be visible to the crew.
During the clip of the slide, you can hear something else say "wait" coresponding with the lyrics. It sounds very similair to that of the Rake.
Speculation
Edit
The whole video plays out like a preemptive Really Dead Montage (WARNING: TV Tropes link. Like Slenderman, clicking this link may lead to loss of large periods of time). The choice of music doesn't help at all. I don't think we're going to see Jessa again... alive, at least.
External Links
Edit