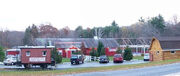 Memory Town, PA is a former ski and camping resort, dating to the heyday of the Pocono, PA area resorts. The resort once encompassed a sprawling complex of rentable cabins, hotels, shops, taverns and other attractions. Currently only the tavern remains open to customers, but many of the buildings and cabins still stand abandoned in the area.
Many people have reported seeing what they call "the lady in gray" in the resort, and during the time that the resort hotels and cabins were in operation people reported hearing voices coming from the hallways near their rooms.
Connection to EMH
Edit
In the Corenthal letter detailing their disappearance from the family home, Dr. Corenthal describes how his adopted children, The Mining Town Four, were seemingly transported from Ohio to Pennsylvania. While waiting for the Corenthals to arrive and retrieve the children, the police took them to Memory Town, and asked Dr. and Mrs. Corenthal to meet them there.
Recently HABIT tweeted a set of coordinates that point to the former Memory Town complex. Box 5 was found there.
Ad blocker interference detected!
Wikia is a free-to-use site that makes money from advertising. We have a modified experience for viewers using ad blockers

Wikia is not accessible if you've made further modifications. Remove the custom ad blocker rule(s) and the page will load as expected.