On July 15th HABIT tweeted "SAY I WERE TO HAVE TWO ELECTRONIC FILES IN MY POSSESSION. TWO FILES YOU'D BE INTERESTED IN. WHAT WOULD YOU DO TO HELP THE #EMH FOOLS OUT."
Early on July 16th HABIT retweeted @glennrieck's reply "@SEVENTRIALS I would even work against the #EMH boys if necessary." Then he tweeted "HA, JUST REMEMBER THAT, GLENN. THEY TRUSTED YOU." Then a link to two password protected files "HOPE IT WAS WORTH IT: tinyurl.com/5v8vavl & tinyurl.com/66m4mol"
The first password for tinyurl.com/5v8vavl turned out to be PITY133 (case-sensitive) the password that had been revealed on the Centralia Note. Behind the password was a file named DUBIOUS.zip. When unzipped it contained what appears to be a saved Minecraft level. The directory of the file after unzipping is:
>Subfolder: Dubious
=>Subfolder: data
==>contents: none
=>subfolder: DIM-1
==>contents: subfolder: region
===>contents: r.0.0.mcr, r.0.-1.mcr, r.-1.0.mcr, r.-1.-1.mcr
=>Subfolder: region
==>contents: see above
=>level.dat
=>level.dat_old
=>session.lock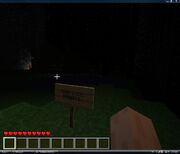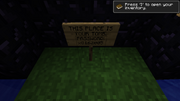 If the minecraft level is restored you find a sign saying "GOOD LUCK RABBITS" and later in the level a sign saying "THIS PLACE IS YOUR TOMB PASSWORD: x8162005." (thanks to GangrulousArmada on Angora and NotJad for the screencaps.)
It contains the Corenthal Letters dated 7-22-1995 and 7-23-1995. The password may be a reference to one of the articles from the Microfilm Collection, dated 8-16-2005.
External Links
Edit
Video of the Minecraft level being played. (Thanks Dr. Block.)
Ad blocker interference detected!
Wikia is a free-to-use site that makes money from advertising. We have a modified experience for viewers using ad blockers

Wikia is not accessible if you've made further modifications. Remove the custom ad blocker rule(s) and the page will load as expected.