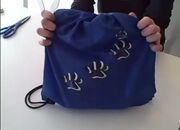 The Bag
(previously thought to be Box #4) was found at N 40 53.879, W -075 45.726, outside Jim Thorpe, PA. The coordiantes were found on the back of the business card found by Alex during
Business Cards on a Plane
.
It was retrieved by Unforum member ladymatsuya and friends on October 30, 2010. Much like the uniqueness of "Box" #3 (which is not truly a box), The Bag is a blue draw-string bag, adorned with four large paw print graphics. While it proved difficult to open, the effort was worth it. The bag contained:
One 32 oz. bottle of Powerade Mountain Berry Blast (Blue)
A red-stained yellow envelope addressed to Linnie, with the phrase "Find them everymanHYBRID" on the reverse side
The envelope contained:
A letter to Linnie on yellow paper
Further papers from Dr. Corenthal (Slightly water-damaged)
Transcripts
Edit
Jessie's family has a home near where the bag was found.
Ad blocker interference detected!
Wikia is a free-to-use site that makes money from advertising. We have a modified experience for viewers using ad blockers

Wikia is not accessible if you've made further modifications. Remove the custom ad blocker rule(s) and the page will load as expected.