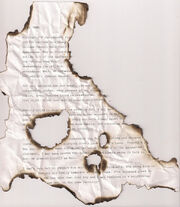 On June 16th, 2011, Noah Maxwell of the series Tribe Twelve received and shot a video documenting the contents of a manilla envelope marked on the outside with purple tape. Among the other items in the envelope was this letter from Dr. Corenthal. What little is legible seems to detail a trying time for the doctor, from an event at a conference to a chance meeting with Milo Asher and the parallels the doctor draws between Milo and the Mining Town Four.
An unburned version of this letter was later recovered from the Password Protected Files.
Transcript
Edit
--7, 22, 1995
Although I'm far removed from
and for various interviews
Fellows Council held their
appearance. Why in Florida,
acation' bit of the converenc---
the "Mining Town Four". I h---
researching the children. You--
attendance. Well, an infamous---
Fellowship's Charles Manson.
For such educated men and women, you wouldn---
nonsensical things, they shouted at ne, accus---
rapist, even. Maryann tried to reassure me, vi---
that night. Bless her, but it wasn't very helpfu---
Roberts tried to stop me from storming out. I may have ---
leave that ---- ium, which was adjacent to the ---
pediatr--- a young boy with sloppy brown hai---
sti--- was some family, the attending nu---
off --- my curiousity.
I for--- en concerning the Fel-- meeting and stopped ---
listen. --- st plunging from a park –er's tower. Playing a ga---
Not his fault. Man made him do it. My veins ran cold at the nonchalant
statement. I may have shoved the questioning policeman aside to talk to th--
boy. He greeted himself as Milo.
I can't help but compare his stor-- wit-- my children's. I'm going back to
speak to him and his family tomorrow at their house. I've arranged plans to
---t are the odds that this boy and I are visitors in a neighboring
---- same day, in the same facility.
---hal --- 11.34 PM
Ad blocker interference detected!
Wikia is a free-to-use site that makes money from advertising. We have a modified experience for viewers using ad blockers

Wikia is not accessible if you've made further modifications. Remove the custom ad blocker rule(s) and the page will load as expected.